News
DofE get wet and wild!
5th May 2023
Gold Duke of Edinburgh expedition - Peak District 10th - 14th April 2023
(3 year 12 students)
"DofE Gold was one of the most interesting experiences we will probably ever have.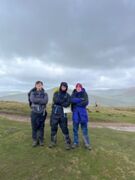 When we arrived there Monday afternoon the weather couldn't have been any worse. Putting up our tents in the hail, pouring rain with thunder and lighting was horrendous - our bags were soaked, everything was soaked. Other than Monday, the experience was really great, not to mention we met some new people and we are still in contact with them. Walking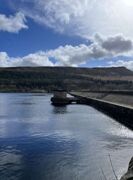 more than 50 miles over the 4 days took us to see some fantastic views.

We saw the military practising low flying exercises over the river Derwant and walked across the Ladybower Dam which is where the dambusters practised the bouncing bomb used in World War 2. We had to dig deep on this expedition but we saw 'numb everything' and almost
constant rain as being character building and the creation of core memories which will last us a lifetime.
Matthew Kelly, Christian Barnett and Xavier Hannam - Year 12
Bronze Duke of Edinburgh expedition - West Berkshire 22nd - 23rd April 2023
(34 year 9 students)
Whilst visiting our boys as they pitched their tents and made various concoctions for their tea, it was clear just how good their spirits were. The camaraderie was heartwarming to see and a further proof of the rich opportunity to help the boys with their personal development. The instructors were full of praise for our students'
conduct, effort and cohesiveness.
"We met up at a pub (car park) and once we had covered a safety briefing and navigation checks we set off and hiked into the countryside. It was only one hour before we heard the snacks calling from our rucksacks. We took turns to navigate but we helped each other when we found we were being taken in the wrong direction. We hiked through forests, fields and the occasional bog all the time avoiding any farm animals with horns. We found a quiet spot for lunch which helped to re energise and lift
flagging spirits caused by the onset of weariness. It helped to pass the time and take minds off tired limbs by completing riddles. Try this one… (I have a mouth but I do not speak, I have a bed but I do not sleep, I have banks though I don't have money?)
We got to our campsite and set up our tents before the rain was due to hit. We got the cooking stoves out and prepared tea. Rice , beans and sausage may not sound like much, but it hit the spot!. After tea we played a range of sports from frisbee to full on NFL football. (No injuries.) Night time came with a deluge of rain which began as a soothing sound, but after many hours became louder and slightly less soothing. We heard all sorts of strange noises (not human) which kept us alert and slightly nervous, who knows what was out there? Morning was met with a sunrise to accompany our breakfast. We had to complete our route plan which would complete our 35 kilometre hike. Getting lost and walking further than we had to take on greater effect the more tired we became. Seeing the finishing post we felt elated and overjoyed that our feet could finally have a break. On reflection, leadership was a key factor in helping to motivate each other. Setting up a camp and feeding ourselves were mostly new skills. I think it is fair to say we all have a newfound appreciation for our mothers cooking. I told my mother, it seems your body can go a lot further than you may think but the mind also has to be willing."

Joshua Nunes - Year 9