Careers
Careers Support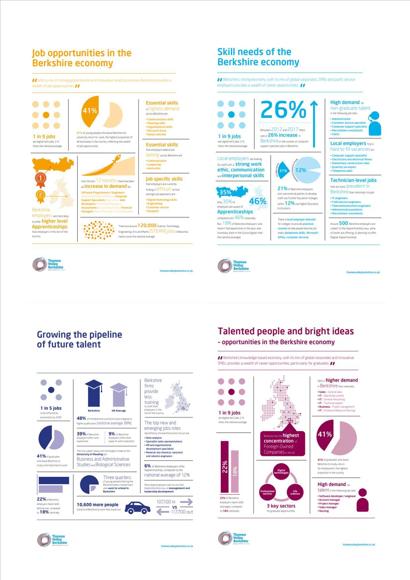 Through Year 7 - 11 careers support is available through the school Careers Lead, Mr Jackman. E: sjackman@forest.academy. T: 0118 978 1626.
Follow @CareersForest
Within school many career events take place, including career specific speakers, workshops, information about college, apprenticeships and sixth form, CV writing, interview techniques etc.
As part of the PSHE curriculum we provide career-related lessons, activities where local businesses help to provide a realistic experience such as Mock Interviews, college and apprenticeship events, and trips related to various career topics.
Full details of The Forest School's approach to careers can be found in our Policy here
We also recommend the National Careers Service website. A number of independent careers sites help parents and students. Including Start Profile.
Happy National Apprenticeships Week! 7th - 11th February 2022 Click the 'all about apprenticeships and traineeships tab' below for more details
What will you do when you leave school?
All young people must stay in some form of 'learning' until either their 18th birthday or when they achieve a level 3 qualification such as 2 A levels or similar. This is known as 'Raising the Participation Age' or RPA.
What this means for you ....you must choose one of the following:
An Apprenticeship

Full-time education in school or college

Employment, self-employment, volunteering (including caring), or an internship for at least 20 hours a week, for more than 8 weeks, and attend part-time learning for the equivalent of 1 day per week.
Why is this better for you?
You will have better job prospects and increased earnings over your lifetime. For example, getting a level 2 Apprenticeship by £73,000, and a level 3 Apprenticeship increases earnings by an estimated £105,000. The opportunities for unskilled work are shrinking drastically, so choosing an option will help you compete and hold down work in the future.
Recent research shows that getting at least 5 9-1 grades at GCSE opens the door to higher earnings. Read more here.
Earning & Learning
If you are not on an Apprenticeship, but are employed, you will need to either:
Train towards an accredited qualification as part of that job, or

Enrol on an accredited part-time course for the equivalent of 1 day per week in addition to your job.
Where can I find out more about the local labour market?
For more information speak with Mr Jackman, Careers Lead. To understand the local labour market view the latest Berkshire Labour Market Update
To understand specific job sectors within the Thames Valley, Berkshire area click here
Deciding on your career
Events & Advice - useful careers web sites and advice services, the latest on careers events, college open days in the area, company events, preparing a CV, wowing at interviews etc.
Jobs & Training - current job vacancies (including part time), those advertised in local newspapers, and links to companies recruiting. Help with applications & CVs. Advice for school leavers. See also Apprenticeships.
Apprenticeships - links to the current vacancies and how to apply.
Volunteering - expand your CV and your skills and improve your chances of getting the job or uni place you want . Links to local volunteer centres and volunteer schemes.
Still not sure which career?
There are plenty of organisations and web sites to help you with ideas, and decide the next step on your career path.
First, find out what your key skills and interest are by using custom software like Start Profile - you will receive your school code from Mr JAckman, and you can use this at home as well as in school. Parents and Guardians can also logon to the Start Profile site to access a range of useful careers information.
The National Careers Service

has some good career tools which will help you identify your skills and also has a wide range of job profiles.
Visit various career information at the web sites below:
www.healthcareers.nhs.uk
www.discovercreativecareers.co.uk
Search here for different types of apprenticeships - everything from agriculture to child care, legal to IT, as well as engineering
www.whatuni.com
www.studential.com
Try work experience or a part time job. A work placement during the school holidays, can help you try out options whilst gaining valuable contacts. Part time work in any area will help with accessing your chosen career area e.g. serving food can help develop your customer skills, whilst newspaper delivery jobs show job commitment.
The hours you can work vary according to your age.
Have more than one option - your 'Plan B' - in case something unforeseen happens like you don't achieve the grades you need.
Know when you can leave school. Click on the link below to see government guidelines.
https://www.gov.uk/know-when-you-can-leave-school
National Careers Service helpline for Teenagers
National Careers Service
Telephone: 0800 100 900
Text messages: 07766 413 219
Monday to Sunday, 8am to 10pm
Find out about call charges
You can also arrange for a National Careers Service adviser to call you - this won't cost you anything.
Jobs and Training
News and Events
All about Apprenticeships and Traineeship
Should I apply for an apprenticeship or go to university?

It's a question that plagues thousands of school leavers every year and there's no right or wrong answer. We'll look at the benefits and drawbacks of both options to help you decide which is best for you.
Six famous people who started out as apprentices
From fashion and food, to acting and sport, apprenticeships can be found in pretty much every career sector - we've tracked down some of the most famous former apprentices to show just what you can achieve through an apprenticeship!
Why should I do an apprenticeship? It's a real job with training, so you can earn while you learn and pick up recognised qualifications as you go. Training may take place on the job, at college or, for higher level apprenticeships, actually at a university or combination. Your employer will pay for your training and, in some cases, university fees.
There are over 180 different types of apprenticeships in a wide range of subjects - from arts, farming, child care, IT and accountancy to more traditional subjects like engineering and motor mechanics. Click here to see the full range. If you live in England, are >16 and not in full time education you can apply. Apprenticeships take 1-4 years.
Find out more about Apprenticeships
Apprenticeships Find out how they work, then register, search and apply for vacancies anywhere in the UK - visit Apprenticeships UK and www.amazingapprenticeships.co.uk

for lots of information on apprenticeships at all levels including the vacancy snapshot.

Is a Traineeship for me? Traineeships last from 6 weeks to 6 months, the content tailored to your individual needs. Advice on how to get a Traineeship and where to go for more information here.
How to write a winning application - click here for tips on how to maximise your chances of getting the apprenticeship you want.
Want to talk to someone? You can call the National Apprenticeship Service on: 0800 015 0400 or 0247 682 6482 or email nationalhelpdesk@apprenticeships.gov.uk .
To see companies who hire apprentices regularly, click here
Read the latest Apprenticeship Parent Pack here
Click here for jobs & tips from notgoingotouni.co.uk
Examples of where your subject can take you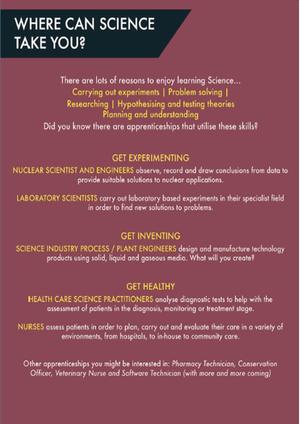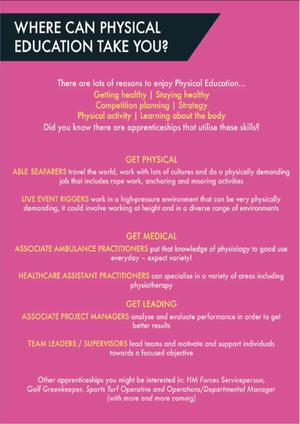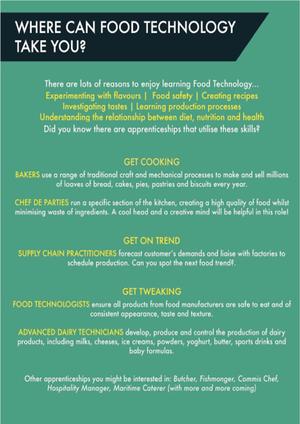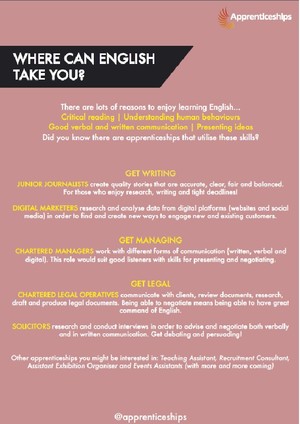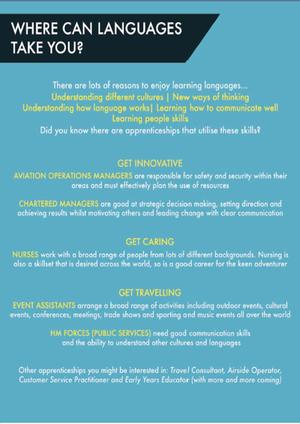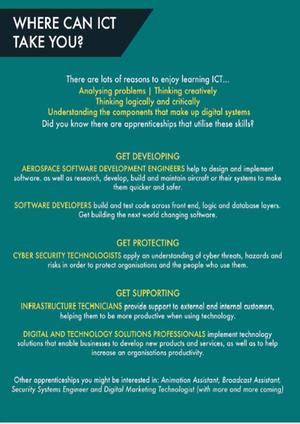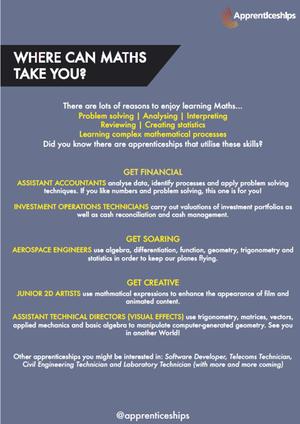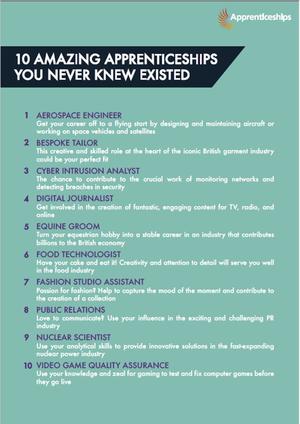 Subject
Develops skills in....
Possible career paths
ART

Thinking creatively
Research
Presenting information
Communication
Attention to detail
Analysis, experiments and investigation
Critical thinking
Problem solving

Animator
Photographer
Architecture
Graphics
Designer
Publisher
Manufacturing
Fashion and textiles
Website design
Merchandising
Self-employment

Business Studies

Researching and presenting information
Problem solving
Teamwork
Enterprise
Practical thinking
Understanding how people think
Communication
Planning
Analysis and evaluation
Decision making

Business advisor
Management consultant
Product manager
Project manager
Business analyst
Banking
Data analyst
Marketing
Buying
Finance
Retail
Estate Agency
Administration
Management
Manufacturing
Public Relations
Finance and Accounting
Self-employment

Computing and ICT

Research
Analysis
Critical evaluation
Cope with rapid changes in technology
Make reasoned arguments
Time management
Logical thinking
Problem solving
communication

Software developer
Systems analyst
Business analyst
IT support analyst
Network engineer
IT consultant
Technical sales representative
Project manager
Web designer
Clerical work
Graphic design
Retail
Computer programming
Engineering
Self-employment

Design Technology
Problem solving
Organisation
Communication
Creativity
Interpreting data and information
IT skills
Technical skills
Patience
Designing and making
ICT
Analysis
Discipline
Fashion styling
Art and design
Media
Photography
Construction and building services
Graphic design
Architecture
Engineering
Product design
Food technologist
Manufacturing
Production
Textile designer
Self-employment
Drama
Presentation and communication
Responding to ideas
Self confidence
Self presentation
Team work and collaboration
Analysis
Leadership
Time management and organisation
Discipline
Actor
Community arts worker
Dancer
Drama therapist
Music therapist
Theatre director
Management
TV production
Therapy
Journalism
Youth work
Marketing
Arts administrator
Community art worker
Programme researcher
production assistant
Economics

Research
Information processing
Analysis
Evaluation
Communication
Critical thinking
Problem solving

Economist
Financial risk analyst
Accountant
Forensic accountant
Investment analysis
stockbroker
Data analyst
Statistician
Civil service
Diplomatic service
Local Government officer
Management consultant
Quantity surveyor
English
Listening
Problem solving
Decision making
Questioning
Imagination
Researching and presenting information
Discussion with others
Communication
Digital copywriter
Editor
Web content manager
Writer
Librarian
Advertising/marketing
TV/film director
teacher
Journalist
Publishing
Selling
Acting
Counselling
Social work
Law
Food Technology
Technical ability
Problem solving
Time management
Organisation
Communication
Creativity
Business management
Administration
Discipline
Interpersonal skills
Hospitality catering
Hospitality management
Food science and technology
Food and drink manufacturing
Travel and tourism
Self employment
Film Studies
Research
Critical analysis
Teamwork
creativity
Media planner
Multimedia specialist
Programme researcher
PR officer
Social media manager
TV/film/video producer
Web content manager
Broadcast journalist
Event manager
Film director
Market researcher
Geography
Communication
Presentation
Writing
Debating
Teamwork
Problem solving
ICT
Researching and presenting information
Analysing and evaluating information
Surveyor
Environment consultant
Town planner
Tourism
Transport
Planning
Marketing
Architecture
International aid/development worker
Landscape architect
Logistics and distribution manager
Market researcher
Nature conservation officer
Sustainability consultant
Transport planner
History
Researching and presenting information
Analysis
Critical evaluation
Teamwork
Communication
Presentation
Writing
Debating
Teamwork
Problem solving
Heritage manager
Conservation officer
Museum curator
Museum education officer
Teacher
Academic librarian
Archaeologist
Archivist
Broadcast journalist
Civil service administrator
Editor
Information officer
Politician
Solicitor
Languages
Listening
Speaking
Reading
writing
Discussing information with others
Researching and presenting information
Self confidence
Interpreter/translator
Journalism
Teaching
Diplomatic service
International/development worker
Civil service
Hospitality
Tourism/Tour manager
Customs work
A wide range of businesses
Self-employment
Maths
Problem solving
Reasoning ability
Attention to detail
Interpreting data and information
Critical thinking
Analytical thinking
Ability to manipulate ideas
Construct logical arguments
Communication
Time management
independence
Finance and accounting
Actuary
Computer programmer
Insurance
Engineering
Investment manager
Lawyer
Government research and laboratories
Theoretical mathematician
Numerical analysis
Statistician
Market researcher
Banking
Space/aircraft industry
Surveying
PE
Self esteem
Accuracy and discipline
Listening
Target setting
Team work
leadership
Exercise physiologist
Sports and exercise psychologist
Fitness centre manager
Personal trainer
Sports administrator
Sports development officer
Sports therapist
Event manager
Outdoor activities/education manager
Youth work
Prison service
Construction
Coaching
Teaching
Journalism
Psychology
Research
Academic writing and presentation
Critical thinking
Abstract reasoning
Communication and interpersonal
Leadership and teamwork
Organisation/time management
Target setting and prioritising
Basic statistical analysis
Clinical psychologist
Counsellor
Educational psychologist
Forensic psychologist
Health psychologist
Therapist
Occupational psychologist
Mental health worker
Sports and exercise psychologist
Careers advisor
Human resources officer
Life coach
RE
Research and investigation
Self motivation
Teamwork
Communication skills
Identification of key issues
Problem solving
Understanding other cultures and points of view
Discussing ideas and giving opinions
Understanding current affairs
Personnel work
Public relations
Probation service
Social work
Police
Law
Journalism
Charity work
Civil service
Counsellor
Science
Data collection
Interpreting and presenting data and information Analysis and evaluation
Problem solving
Communication
Attention to detail
Reasoning ability
Planning and carrying out experiments
Time management and organisation
Discipline
Agriculture
Biochemistry
Laboratory researcher
Medical sales
Pharmacology
Genetics
Biomedical engineering
Toxicologist
Scientist
Dietician
Meteorologist
Astronomer
Engineer
Dentist
Doctor
Nurse
Quality assurance
College Application Update