News
U16 Footballers bring the Elite National Cup back!
19th May 2023
We are incredibly proud to have brought the U16 Elite National Cup back to the Forest School for only the second time ever and it happens to be in consecutive years.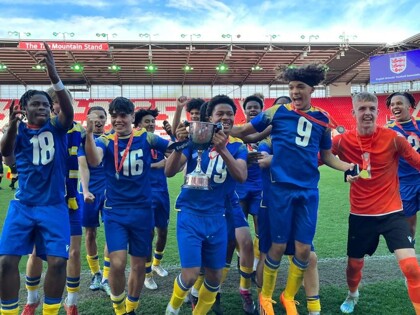 This year's Forest team mirrored last year's achievements winning comprehensively in the final after performing exceptionally throughout the campaign. The squad of 19 have given everything both on and off the pitch having continued to study for their GCSE exams whilst competing for this prestigious competition.
The boys started the match attacking relentlessly going 1-0 up in the first 5 minutes with Kiyan Coke-Miles-Smith . The Forest team did not sit back; they piled on the pressure with strong individual performances across all positions and outstanding teamwork. Particularly impressive was the transition from defence to counter attack with lightning speed. The team produced several more chances and were unlucky not to have consolidated their lead in the first half having hit the post, crossbar and applying immense pressure to their defence.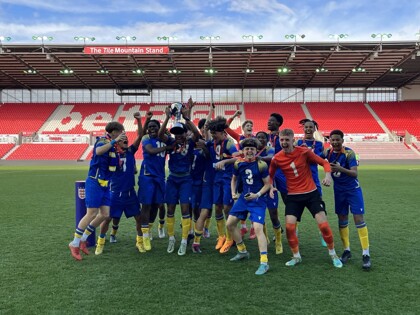 Forest boys kicked off the second half less convincingly, with "The English Martyr's School" from Hartlepool scoring a well taken glancing header from a nicely delivered free kick. The martyrs' celebrations had only just ended when Luca Fletcher restored Forest's lead making it 2-1. Forest then took control of the game and it wasn't long until Luca struck again extending the lead to 3-1.
Forest proceeded to make a number of substitutions ensuring that as many of the squad that had represented the school on the journey to the final gained well earned playing time in this prestigious final. In the closing minutes an opposition penalty resulted in the final score of 3-2 to Forest. This was a match never in doubt but the 250 travelling Forest supporters had to endure a short lived but nail biting finish.
Forest supporters were vocal throughout giving the young men the kind of support that any premier league club would be envious of. A day as Headteacher I will never forget!