Useful Information
Duke of Edinburgh Scheme

At The Forest School, we believe in inspiring our young people; 'our future world leaders'. The Duke of Edinburgh award is central to our school ethos, as we know that incredible learning and experiences happen through completing the full suite of Volunteering, Skills, Physical, (Residential) and Expedition sections of the DofE award.'
The DofE team are running virtual sessions designed to help parents and carers understand how to best support a young person through their Dof E journey. Please click here for all the dates, details and how to book.
Introduction to DofE using 5 easy steps:
Sign into your eDofE account with the login details sent to you.
Complete your contact details to receive your DofE welcome pack
Use the ideas for activities via the opportunity finder to help you write your plan and complete the details for your volunteering, physical and skills sections (Gold participants should also complete the details for their residential section), once completed please submit to your DofE Leader, Mrs Deer cdeer@forest.academy
Choose your assessor and tell them what you will be doing, your goals in achieving this and how you plan to evidence them.
Download the eDofE from the App Store and start completing your sections, logging evidence for them as you go.
The DofE at The Forest School provides a balanced programme of activities that develop the whole person in an environment of social interaction and team working.
We currently offer the Bronze, Silver and Gold Awards.
We offer an extensive range of extra-curricular activities at The Forest School which can help you to complete each section. Activities you take part in outside of school could also count towards the award. Choose activities that motivate you and go on your own personal journey.
For more DofE references and guides please click here
Please work through the training links below and answer the relevant questions.
Every completed training section includes an online quiz. When completed it can be uploaded as your evidence of participation in training.
1. Expeditions
2. Cooking - please watch both videos
6. Putting up at tent (Silver)
Duke of Edinburgh fee information
Bronze - £200, Silver- £260. Gold - POA. Please note once your child has been accepted, any monies paid are non-refundable.
Although students will have regular meetings with our DofE Manager to receive support, we would like to remind you that, as this is an extra-curricular activity, we expect students, as well as parents / carers, to ensure that the different sections are completed and that they are done so on time.
The Physical, Skills and Volunteering sections must be undertaken once a week, with two of these sections to be completed over three months, and one over six months. Although students will be assisted in selecting appropriate activities and monitored throughout the delivery of the Award, completion of these sections will primarily be the responsibility of the students taking part.
You can find more useful information on the DofE website.
For more information please email Mrs Deer cdeer@forest.academy
Extra Curricular Clubs & Activities
We run all different kinds of clubs and extra curricular activities for you to enjoy They may take place before, during or after the school day. Please speak with your form tutor or Head of Year for current club availability and to join up.
Click here to open the full clubs list.
NB: During the school year teachers will run additional intervention and revision sessions for those students taking exams in May and June. This may restrict some of the extra curricular activities but you will be notified should this affect your club.
House System
Which House are you in?
There are seven Houses at The Forest. Their names are all related to large forests in England.
Ashdown, Bramshill, Kielder, Langdale, New, Sherwood and Windsor

Every student in the school is assigned to a House; in Years 7 to 11.
The House system is an integral part of school life at The Forest providing opportunities for our students to engage in a wide range of activities in which they can experience friendly competition and rivalry.
Commendations constitute ASPIRE House Points and recognised individually and as a House in Celebration assemblies at the end of each term.
Bonus House points are awarded for the following:
Outstanding punctuality
Attendance above the school's 96% target
100% Attendance
Zero discredits
Working at or exceeding academic target grades
Competitions are provided for the boys to experience camaraderie and a sense of belonging to their House and school. It provides practice in the important life skills of managing "success with humility and defeat with dignity."
Showcase events include:
Year 7 Shakespeare House Festival
Year 7 Music 'Sing-off' House competition
All Years - House Debating Club
All Years - House Football Tournament
All Years - House Rugby Festival
All Years - House X Country Event
Years 7 to 10 - House Swimming Gala
Years 7 to 10 - House Athletics and Sports Day
The House events in blue have a 100% participation rate with equally weighted duel competitions for the more able students and for those who are developing towards these levels. Students who are injured or unwell on the day fulfil one of the following roles to ensure they do not miss out on the engagement opportunity, camaraderie or the chance to represent their House: Marshall, officiator, scorer, or coach.
All House competitions are positively celebrated at the end of each term in our Holistic 'Celebration Assemblies' with student voice from team captains and awards for the House with:
Highest attendance
Least discredits
Most ASPIRE reward points
House Competition placement
Library
Students have use of the school/public Library at both break times during the school day. They may use it after school from 15:30 for quiet study or reading during the public library opening hours of 15:30 - 17:00 Tuesday - Friday. Please note the Library closes at 17:00.
Winnersh Library is part of Wokingham Libraries, so your child's library card can be used in any library in the Borough. Obtain a PIN from the library and you can renew your books online.
Sports Website
Welcome to the The Forest School Sports Website. Here you will be able to view:
A calendar of current and forthcoming fixtures
Venues
Results
Match stats
School contacts...
...and much more! The site is developing gradually and will include match photos, team sheets and Inter-House competitions.
'This is me' Annual Inclusion Day
Over 2,000 students from 44 different schools travelled to Manor Green Special School, Maidenhead to take part in the annual Inclusion D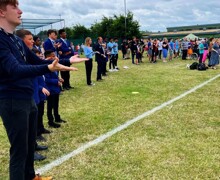 ay celebration.
Boys and girls from The Forest learnt 3 different dances using Makaton and were a true credit to the school. This wonderful experience enabled them to grow and learn.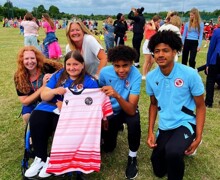 Millie, Head Girl at Manor Green is also the biggest ever Reading FC fan!!!!