News
Chrombook - BYOD Deadline 10th September 2019
3rd September 2019
Dear Parent / Carer,
Reminder: Order deadline for BYOD Chromebook - 10th September 2019
We're delighted at the response to our Chromebook scheme. If you haven't already finalised your Chromebook purchase please place your order as soon as possible. This is compulsory equipment from September 2019 for Year 7 and Year 8 students.
Please visit www.tech4learners.co.uk to login and order your Chromebook.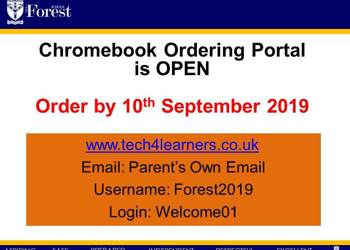 There are a range of payment options to suit all budgets and these are detailed below:
A one off payment - £354.25

Monthly payments over 3 years - £11.87

Monthly payments over 2 years - £16.75

Monthly payments over 1 year - £31.40
Below is a link to the Parent handbook for the Chromebook scheme
Chromebook Parent handbook link
If you do have any queries about the device of the scheme, please do not hesitate to contact me at the following email address: fwood@forest.academy
Yours sincerely,
Fiona Wood
Assistant Headteacher