Exam & Key Stage Results
The Forest School GCSE Results 2023
Forest's GCSE results confirmed as even better, again this year! Click here to read the full story.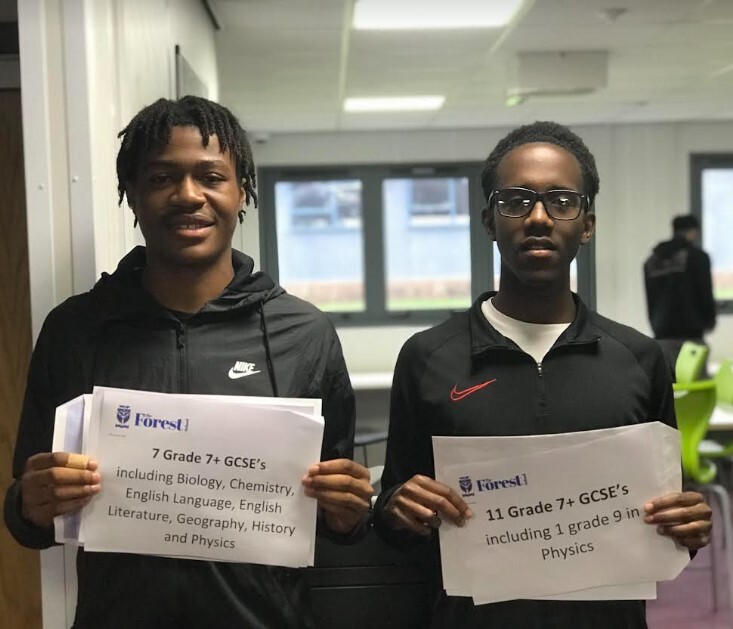 Forest students' progress and achievements top previous performance.
Our students are celebrating a strong set of GCSE results, showing excellent improvement on previous performance. With exam grades returning to 2019 standards this year, The Forest have seen significantly more students achieving strong passes across the board this year compared to 2019. Student achievement has also improved by at least half a grade across their subjects, compared to this previous performance.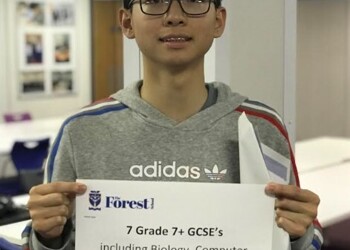 The talk of national standards returning to 'normal' this year means that no exceptions were made for the disruption caused by the pandemic. There have already been various stories in the media about the impact of this, and the reduced number of 'top' grades, but at The Forest we are delighted to see our students reaching the highest grades possible in a range of subjects; specifically grade 9s in humanities, computer science, English and sciences. This year Forest students continue to perform better than other students nationally in maths, computer science, photography, English and religious studies. Our students' achievement again exceeds national standards for boys. At least two thirds of our students have achieved a strong pass in English and maths, and we know the importance of this for all students in making their next steps. We are proud to have supported the individual successes that are an important part of this cohort; some of our students joined the year group much later from Hong Kong, and secured excellent progress.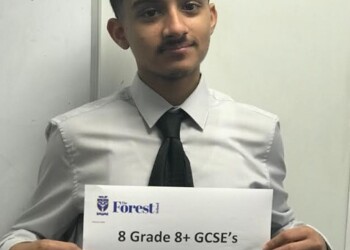 Headteacher Shirley Austin congratulates all the students, staff and families on this set of results, in spite of ongoing challenges faced by schools since 2019. "These results are a strong starting point for those joining Forest 6th for A levels from September. Their determination and aspiration to succeed this summer has paid off, and will enable the excellence the school expects in years 12 and 13. The boys really have lived up to the 'Aspire to become Elite,' having matched their sporting excellence in winning the Elite National Cup for the second consecutive year, (the only school in the history of the cup to win twice) and now their academics. There is simply no stopping The Forest now as records continue to be broken with girls joining in year 7 from 2024. We may well be welcoming a future lioness! I am so privileged and proud to be Headteacher of this amazing school. Remember you can always book a visit if you want to meet The Forest Family."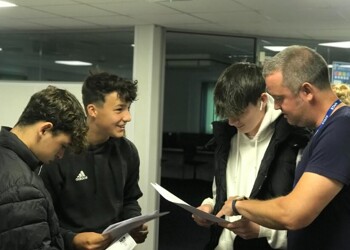 We are incredibly proud and overjoyed with the exceptional 2023 results. Special congratulations goes to the following students who achieved a grade 7+ in 7 or more subjects:
Martin Dam
Emmanuel Osho
Tunir Sarkar
Toby Atkins



Here are a few of our headline figures:
76% of students achieved 9-4 against boys nationally at 68%
16% of students achieved 9-7 against boys nationally at 22%
8% of the students achieved a Grade 7 or above in English against boys nationally at 16%
16% of the students achieved a grade 7 or above in Mathematics against boys nationally at 17%
62% of the students achieved a Grade 5 or above in English against boys nationally at 48%
63% of the students achieved a Grade 5 or above in Mathematics against boys nationally at 43%
100% of students achieved at least a Grade 4 in Biology, Chemistry and Physics
Subjects in which 75% or more grades 9-7:
Art
Biology
Chemistry
Computer Science
Physics
Religious Studies

The Forest Sixth Form Results 2023
Historic success; students overcome challenges of the past few years to achieve their first set of results.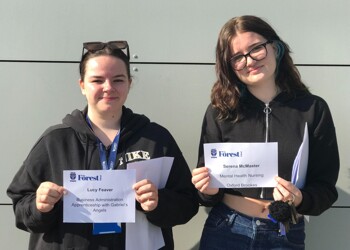 Shirley Austin Headteacher is delighted to be celebrating the success of a cohort of whom over two thirds secured the highest grades at A level. Our BTEC performance has been exceptional, with nearly all results between Merit and Distinction. For a year group who faced their first public examinations this summer, following the disruption from the pandemic, this is undoubtedly a significant success for students, their families and the school.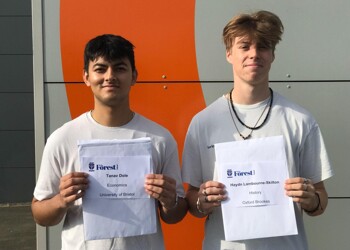 The Forest School are particularly proud of our students' achievements in what are considered to be some of the most challenging subjects; computer science and further maths. Students made excellent progress in art, photography, film studies and IT. We are delighted with some exceptional individual achievements in geography and maths A level. Some of these achievements are in the highest 25% of school performance nationally.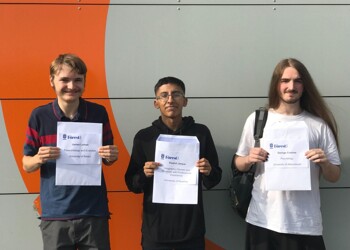 Over 80% of our students are taking up places at their chosen university, many of which are Russell Group universities. Other students with university offers are choosing to take up exciting apprenticeships with local leading companies in IT and business. This is credit to the outstanding careers advice and guidance throughout their Forest years.
For a small cohort who faced all the challenges of the pandemic before embarking on their sixth form study, alongside the national picture of a reduction in the higher grades this year, it is an historic success of which we should all be proud. We opened our doors to students who may not have had the chance to study at A level in other circumstances, back in September 2021. They have gone on to achieve outcomes that will lead them onto the next stage in their personal and academic journey. It has been our privilege to enable such inclusion, changing lives beyond just academics.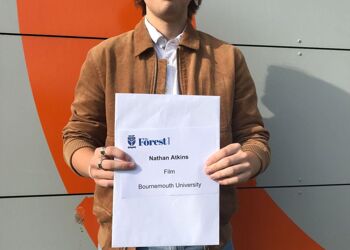 Here are a few of our headline figures:
Top performing subjects (Average Point Score)
35 - Geography
35 - English Literature
35 - Photography
35 - Travel & Tourism
35 - Further Maths
38 - Computer Science
38 - History
40 - Art
40 - Film Studies
Congratulations to the following students achieving 3+ A*-B; outstanding results!
Tanav Dole
James Lomax
Adam Qureshi
Aaron Rowlinson
Ofsted recognises the sixth form provision at The Forest School as 'Good'.

For more information about Forest Sixth Form, please contact Stuart Jackman, sjackman@forest.academy or follow us on Twitter@forest_sixth or @Forestwinnersh
2022 KS4 Exam Results
Name

Entry

9

8

7

6

5

4

3

2

1

U

Total Grades

9-7%

9-5%

9-4%

Average Points

English Language

95

2

4

18

23

23

13

10

1

1

95

25

74

87

5.41

English Literature

94

7

17

22

22

10

9

3

4

94

26

72

83

5.26

Maths

95

3

14

14

14

15

17

8

5

4

1

95

33

63

81

5.28

Biology

26

4

3

10

7

1

1

26

65

96

100

6.96

Chemistry

26

5

2

7

6

6

26

54

100

100

6.77

Physics

26

5

2

7

9

3

26

54

100

100

6.88

Geography

54

2

11

11

11

4

2

5

5

1

2

54

44

72

76

5.61

History

52

3

3

8

13

7

7

6

3

1

1

52

27

65

79

5.25

Computer Science

31

6

3

6

8

2

4

2

31

48

81

94

6.45

Spanish

20

3

2

3

2

6

2

2

20

25

50

80

5

Art

10

1

2

2

1

2

2

10

10

50

60

4.3

Photography

8

2

1

3

1

1

8

25

75

88

5.13

Food

9

1

1

2

2

2

1

9

22

44

67

4.22

DT

42

5

8

9

2

4

4

6

3

1

42

31

57

67

4.83

Drama

15

2

2

6

1

4

15

13

67

73

4.8

Music

7

1

2

1

1

2

7

14

57

71

5

Business

67

4

10

13

12

7

9

5

6

1

67

40

69

82

5.64

PE

14

2

1

1

3

1

3

3

14

29

57

79

5.5

Summary

691

36

70

128

147

109

82

62

36

16

5

691

31

68

81

4.59
2022 KS5 Exam Results
| | | | | | | | | | | |
| --- | --- | --- | --- | --- | --- | --- | --- | --- | --- | --- |
| Subject | Entries | A* | A | B | C | D | E | U | Average points | Average grade |
| Art | 1 | 1 | | | | | | | 60 | A* |
| Photography | 3 | 1 | 1 | | 1 | | | | 47 | A |
| Biology | 14 | 1 | 1 | 4 | 3 | 4 | 1 | | 32 | B |
| Business | 9 | | 2 | 2 | 5 | | | | 37 | C |
| Chemistry | 6 | 1 | | 1 | 1 | | 2 | | 25 | C |
| Computer Science | 4 | 1 | 1 | 2 | | | | | 48 | B |
| Drama | 6 | | | | 2 | 3 | 1 | | 22 | D |
| Economics | 11 | 1 | 3 | 5 | 2 | | | | 43 | B |
| English Literature | 4 | | | 2 | 1 | | | | 28 | B |
| French | 1 | 1 | | | | | | | 60 | A* |
| Further Maths | 2 | | | | 1 | 1 | | | 25 | C |
| AS Further Maths | 1 | | 1 | | | | | | 25 | A |
| Geography | 16 | 1 | 5 | 6 | 3 | | | | 40 | B |
| History | 5 | | 3 | 1 | 1 | | | | 34 | A |
| Maths | 21 | 1 | 4 | 7 | 3 | 3 | 1 | 2 | 33 | B |
| Physical Education | 6 | 1 | | 3 | 1 | | 1 | | 37 | B |
| Physics | 17 | 1 | 1 | 5 | 2 | 2 | 4 | 2 | 26 | B |
| Psychology | 8 | 1 | | 2 | 3 | 2 | | | 34 | C |
| Technology | 5 | 1 | | 1 | 1 | | 1 | 1 | 28 | C |
| TOTALS | 140 | 14 | 21 | 41 | 30 | 15 | 11 | 5 | 36 | B |