PTA
FOREST PTA
The PTA is a small but dedicated group of Forest parents and staff representatives who hold fundraising and support activities for the school to assist with the provision of resources and equipment and the upkeep of facilities. Recent purchases have included microscopes for the biology labs, GCSE and A level textbooks and practicalities such as new window blinds, plus a significant contribution to the redevelopment of the school swimming pool. We are a registered charity.
Fundraising activities over recent years have included quiz nights, car boot sales and cake sales. We are often to be found running a refreshment stall or bar at school events such as concerts, awards ceremonies and open evenings and also occasionally when the school hall is hired for an event by an external party.
Online Shopping
Raise money simply whilst shopping on line. We have accounts with:
Smile.Amazon.co.uk - search for and choose Forest School Parent Teacher Association. In order to create a small donation to the PTA account you must login via smile.amazon.co.uk ​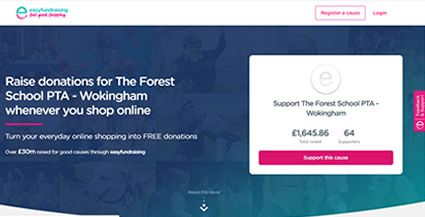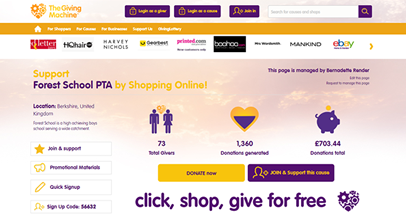 PTA meetings are held on the first Monday of each month during term time in Forest 6 at 6.30pm. New members are always welcome – please get in touch if you'd like to join the committee or to offer occasional support throughout the school year.

PTA news can be found on our Facebook page – just 'like' us to be kept up to date on our activities. Take a look at our news at Forest Newsletters and our photo gallery.
For all enquiries please email our Chairperson Jo Thompson or Claire Myers at pta@forest.academy
PTA Committee
President: Shirley Austin
Joint Chair: Jo Thompson and Claire Myers
Treasurer: Neil Burke
Secretary: Shirley Clarke
We have created a PTA photo gallery. Showing just some of the events and activities the PTA get involved with. Simply click here to view the gallery