Duke of Edinburgh
The DofE at The Forest School provides a balanced programme of activities that develop the whole person in an environment of social interaction and team working.
We currently offer the Bronze Award, but will be extending the programme to Silver and Gold Awards in the near future. Full details of each one can be found in the packs attached at the bottom of this page.
Please click here for some ideas to help you complete each section. We offer an extensive range of extra-curricular activities at The Forest School which can help you to complete each section. Activities you do outside of school could also count towards the award. Choose activities that motivate you and go on your own personal journey. We expect all participants to abide by the DofE 20 Conditions during their expedition section .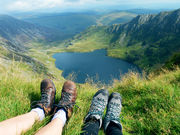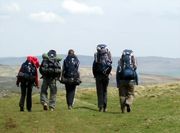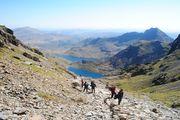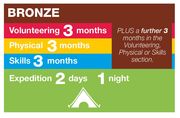 Fee information
Bronze - £200. Please note once your child has been accepted, any monies paid are non- refundable.
Although students will have regular meetings with our DofE Manager to receive support, we would like to remind you that, as this is an extra-curricular activity, we expect students, as well as parents / carers, to ensure that the different sections are completed and they are done so on time.
The Physical, Skills and Volunteering sections must be undertaken once a week, with two of these sections to be completed over three months, and one over six months. Although students will be assisted in selecting appropriate activities and monitored throughout the delivery of the Award, completion of these sections will primarily be the responsibility of the students taking part.
Further information. You can find useful information on the DofE website.
For more information please email office@forest.academy
Duke of Edinburgh -Forest Calendar of Events
Day

Date

Activity

Start

End

Wednesday

26 Sept

eDofE Induction Session - Y 9

3:10pm

4:10pm

Wednesday

17 Oct

eDofE Induction Session - Y10

3:10pm

4:10pm

Autumn Half Term Break. 20 Oct – 28 Oct

Wednesday

21 Nov

eDofE Session - Y9

3:10pm

4:10pm

Christmas Holiday. 19 Dec – 6 Jan

Wednesday

23 Jan

eDofE Session - Y10

3:10pm

4:10pm

Wednesday

13 Feb

eDofE Session - Y9

3:10pm

4:10pm

Spring Half Term Break. 16 Feb – 24 Feb

Wednesday

13 Mar

eDofE Session - Y10

3:10pm

4:10pm

Friday

22 Mar

Training Session - All students

08:45

4:10pm​

Wednesday

3 Apr

eDofE Session - Y9

3:10pm

4:10pm

Easter Holiday. 6 Apr – 22 Apr

Wednesday

1 May

eDofE Session & Equipment Check - Y10

3:10pm

4:10pm

Wednesday

22 May

eDofE Session & Equipment Check - Y9

3:10pm

4:10pm

Saturday -Sunday

8 Jun - 9 Jun

Expedition Practice Weekend – All students

TBC

TBC

Summer Half Term Break. 25 May – 2 Jun

Wednesday

19 Jun

eDofE Session - Y10

3:10pm

4:10pm

Saturday -Sunday

6 Jul -

7 Jul

Expedition Qualifier Weekend - All students

TBC

TBC

Summer Holiday. 25 Jul -

Thursday

19 Sept

DofE Presentation Evening – All students

6:30pm

8:00pm