News
Year 8 English research the Red Cross
17th November 2022
Battle of Britain
The Battle of Britain from September 1940 to May 1941 ws the first major military campaign to be fought entirely by air forces. It was also the largest and most sustained aerial bombing of towns and cities the UK has ever seen.
The British British Red Cross supported people who were affected by the Blitz, a nine-month period of exceptionally heavy bombing in London
Volunteers drove ambulances, carried stretchers and rescued people from buildings that had been demolished by bombs. They ran first aid posts in the London Underground stations used as air raid shelters. The Red Cross gave out essential items such as food, medical supplies, blankets and clothing to people in town halls, emergency rest centres and hospitals.
We ran ambulances for the sick and wounded
In October 1939, the Joint War Organisation created a new department responsible for transporting the wounded.
Throughout the war the department sourced and supplied hundreds of ambulances to the Army. Red Cross ambulance crews provided assistance to the sick and wounded, both at home and abroad.
Notably, Red Cross ambulances helped transport the wounded in the days following the Normandy landings.When planes carrying the casualties landed, ambulances drew up next to them ready to be loaded.
Patients were examined before being transferred to waiting ambulance trains or direct to special hospitals.The ambulances carried 1,013,076 casualties and patients and covered 9,142,621 miles.
We found wounded and missing family
The Red Cross set up the Wounded, Missing and Relatives Department to help people searching for information about servicemen who were reported missing or wounded. Families who had no news of their loved ones could use the service to find out if they were safe. Red Cross volunteers ran a search service in hospitals to gain information from patients about men who had been reported missing.
They also responded to queries about the condition and progress of men in hospitals around the world. Red Cross welfare officers sent reports home about men being cared for in hospitals overseas. Patients' relatives really valued these compassionate letters when normal means of communication weren't possible.
by Toby Holmes
Did you know?
A gruesome battle sparked the idea for the Red Cross. On his journey to meet
Napoleon III in 1859, the businessman Henry Dunant witnessed a bloody battle in present-day Italy. What he saw horrified him: men were left to die in agony without medical aid. This sparked his vision for impartial medical volunteers, who helped the wounded no matter what side of the war they were on.
It's the largest humanitarian network in the World! Amazingly, almost every country in the world has a Red Cross Society.
The Red Cross is NOT a logo it's an emblem that's protected by international law and the society works in some of the most dangerous places on earth.
Nicholas Esson created a scrapbook style for his piece of research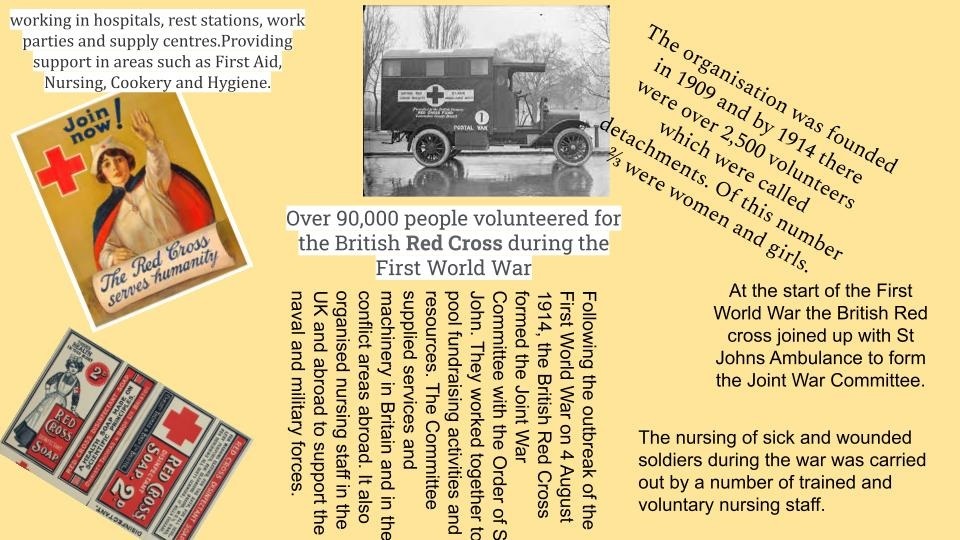 George Fogarty created a collage.