Useful Information: Uniform, Cashless Catering, Lesson Times, Standard Forms
Please find useful information about the school within the pages below
Cashless Catering Information
Frequently Asked Questions
Q) What is a Cashless System?
A) Our Cashless Catering System was purpose designed to meet the ever evolving needs and demands of the catering provision that is required by today's Schools and Academies. This allows us to be better able to provide our students with a faster, more efficient and more appealing meal service.

Q) Why do you use Biometrics?
A) The Cashless Catering System uses Biometrics technology simply as a means of identifying individuals. We use what's called an algorithm-based scan, which reads between 50 & 130 points on the person's finger/thumb. It is not a fingerprint in any way, shape or form, and is of use only in this cashless system.

Q) How does a Biometric System work?
A) The information of a student or staff member, who has been biometrically registered, is stored on a secure Biometric Controller within the school, which only our provider, Nationwide Retail Systems Ltd, can access. Once an account is credited, the student or staff member places their finger/thumb on the EPOS Terminal, which looks up their account details and allows them to purchase items using only this method of identification.

Q) How does my child register on the Biometric System?
A) Your child will be told how and when to register. Your child will be required to place their finger/thumb on a Biometric sensor twice to obtain a matching template, which only takes a few seconds. If you have chosen to 'Opt Out' of this procedure, your child will be presented with a 4 digit PIN Code.
Q) What methods of payment can be used to credit an account?
A) Any amount can be credited to an account by using our online payments system. Once an account has been credited, the monies cannot be withdrawn and must be spent on the school meal/break services.

Q) How do I make Online Payments?
A) To make a payment online, please go to http://www.scopay.com/forest. NB. This is the same link that you will /currently use to pay-online for trips. If you have not yet registered for online payments then please send an email to finance@forest.academy to obtain details of how to register.

Q) How can I check the credit on an account?
A) This can be done in two ways:
1. Student or staff members can check in the canteen by placing their finger/thumb onto a special unit or by entering their 4 digit PIN Code if they have one. The current balance will then be displayed.
2. Parents can access the balance via the online payment system.

Q) Can I change the daily 'Spend Limit'?
A) Yes – the daily 'Spend Limit' has a default of £5 but this may be changed by written request to The Finance Office, Forest School, Robin Hood Lane, Winnersh, RG41 5NE, or by emailing finance@forest.academy

Q) What happens if my child's account is not in credit?
A) There is no lending facility so all amounts should be in credit. Please ensure that your child has sufficient credit, or provide him/ her with a packed lunch. If students are without funds, they will need to see their Head of Year to ask for an advance from the Finance Office. This must be paid back in full, in cash, directly to the Finance Office. No advances can be paid back through the online system, as the cash is owed to the school and not our catering provider. Please note that the school will not re-lend if any advances have not been repaid.

Q) How do 'Free School Meal' entitlements work in this system?
A) Free School Meal entitlements are entered on to the cashless catering system when we are told that your child is eligible. The system will then, on a daily basis, automatically allocate the free meal amounts. Students with FSM entitlement remain anonymous at all times, as all account types are accessed in the exact same manner, regardless as to whether paid for or not. Note: Any monies not spent from the daily free meal allocation will not be carried over to the next day.

Q) Can anyone else use my child's account?
A) No – Due to the extensive security on Biometric templates no-one will be able to access your child's account. As a secondary precaution, a photo image is allocated to each student. If your child uses a 4 digit PIN Code which someone then obtains and attempts to use, the photograph shown on the EPOS Terminal will alert the operator that a fraudulent sale is taking place.

Q) My child has an allergy, how will this be monitored
A) All allergy records registered with the school will be entered on to the Cashless System. When students attempt to purchase an item which has ingredients that they are allergic to, the system will alert the operator and prevent them from selling the chosen item.

Q) Can I dictate my child's dietary requirements?
A) The system will allow you to register any items that your child is not allowed due to dietary needs or religious beliefs. Any such items must be confirmed in writing by the parent/guardian to The Forest School.

Q) Can I request a printed report of my child's meal intake?
A) Yes – The Cashless Catering System allows numerous reporting facilities which are available through your scopay online account.
Uniform
Contact and Visit the Uniform Shop:
Hawkins Sport will be selling ALL uniform and PE/Games kit, excluding school ties from their store. School ties can be purchased via the Finance Office
Visit https://www.hawkinsport.co.uk/category/forest-school Email: sales@hawkinsport.co.uk. Tel: 01628 819242
Visit: Unit 10a Wessex Road Industrial Estate, Bourne End, Bucks, SL8 5DT.
OPENING HOURS: Monday to Saturday 9.00am - 5.30pm
Hawkinsport Uniform Price List 2018 To download the price list click here
Uniform List

School Blazer

House tie

White shirt

Black V neck jumper

Black trousers

Black or grey socks

Black Shoes (NO canvas shoes, trainers or shoes with logos).

OUTERWEAR A black coat or hooded jacket (NOT hoodies).

No Jewellery is permitted apart from a wristwatch and a single bangle. Earrings, studs, plugs or stretchers are not permitted in Years 7 – 11.

Earrings are permitted in Sixth Form (Years 12 & 13). Festival style wristbands are not permitted.

Hair needs to be neat and tidy, and suitable for a business environment. No dyed hair and no patterns, lines or words shaved into hair.

Sports Kit

Rugby top

Blue rugby shorts

Blue school socks

Relevant football/rugby boots

Trainers - non marking sole

Games/PE top

Blue school shorts

Mouth guard/shin pads

Food Technology

We are looking forward to welcoming your son to the Design Technology and Food Department in September.

As part of the new regulations brought about by Covid-19, we are unable to provide aprons for practical food lessons. We have therefore added a chef's jacket and apron to the compulsory uniform and equipment list needed by every student.

The items are available to order online from nisbets.co.uk and the links for the jacket and apron are as follows:

https://www.nisbets.co.uk/whites-boston-unisex-short-sleeve-jacket-white/p_b250

https://www.nisbets.co.uk/whites-regular-waist-apron-black/a968

The Forest School's Uniform Policy
Uniform Donations
Second Hand Uniform
For those families who are in receipt of the correct benefits second hand uniform may be available for purchase. Please contact: 0118 978 1626 for more information.
Donations of Uniform
We appreciate donations of uniform and PE/games kits. Please drop your donations in at the school reception. Thank you.
Equipment available to purchase at school
Finance Office
The school Finance Office sells:
House ties for £7.50

Calculators for £8.00

Stationery sets in a clear case for £3.50. Stationery sets include 2 X set squares, a 30 cm rule, compass, protractor, 2 pencils, 2 biro pens, eraser, highlighter pen and glue stick.

Forest water bottles £2.00

Mini English Dictionary £2.50
Lesson Times
| Times of the School Day | |
| --- | --- |
| 08:45 - 08:50 | Registration |
| 08:50 -09:10 | PSHE |
| 09:10 - 10:50 | Lesson 1 |
| 10:50 - 11:20 | Break |
| 11:20 - 13:00 | Lesson 2 |
| 13:00 - 13:30 | Break |
| 13:30 - 15:10 | Lesson 3 |
Pupil Absence/ Attendance
Standard Forms
School Menu
Where can my son get his lunch or a snack?
Our cafeteria supplies a range of healthy hot and cold food, snacks and drinks, and is situated near the main entrance. It is open before school and during break and lunchtimes.
We encourage students to bring in refillable water bottles; as a school we try and limit the use of one use plastic. We have several water fountains in school.
Catering services in the main school are provided by Caterlink. The lunch menu and sample prices can also be downloaded here.
We don't accept cash at the canteen tills as we operate a cashless catering system.
Please click here to find the latest caterlink menu
Entitled to free school meals?
Applying is very easy. To find out more contact Free School Meal Administrator on 0118 978 1626 ext 1093 or email your enquiry here.
Travelling to School
Travelling to & from school
The school actively encourages pupils to walk to school, or travel by bike and public transport. See below for more details on this.
For travel advice and information in and around Wokingham Borough please visit:
My Journey Wokingham - https://www.myjourneywokingham.com/
Please see the current routes the buses take. These lists are correct at the time of publishing, but please do check your journey details prior to travelling.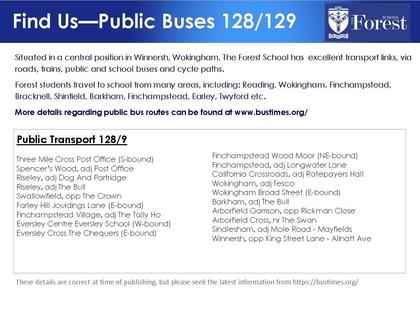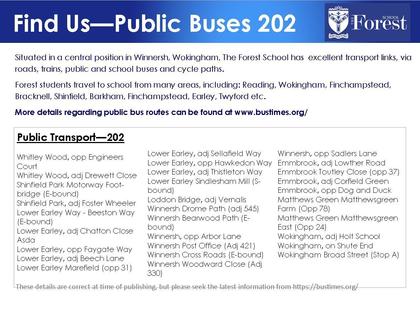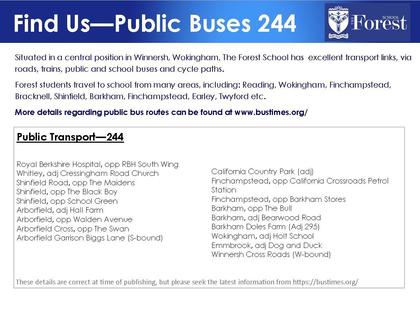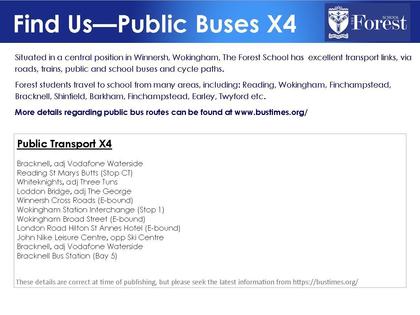 Bad Weather Procedures
Possible Bad Weather
Any school closure information, due to bad weather, will be posted online. Updates will also be available on local radio stations, and via the 'Borough Alert' on Wokingham Borough Council's website.
Local radio stations include: Berkshire Radio, Reading 107 and Heart FM.